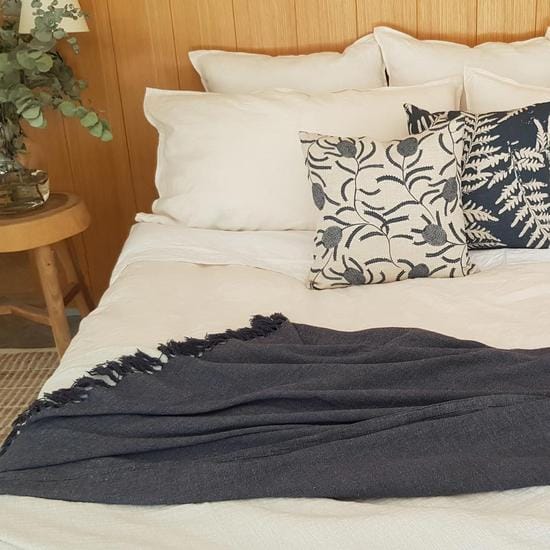 I have long been a fan of the Australian brand Ecodownunder. Not only do they offer the higher end organic cotton options, but also the mid-range eco-friendly category that is formaldehyde and harsh-chemical-free, made of natural fibres, using pollution free whitening and non-chlorine bleaches, all sold in biodegradable packaging.
And here's why this is important.
The Textile Exchange refers to the health and environmental impacts of pesticides in the chemical growing processes of non-organic cotton. Organic farming practices promote ecologial balance and conserve biodiversity by enhancing rather than detracting from water and soil quality. Ecological habitats are maintained and promoted rather than destroyed – for example wetlands, wooodlands and wildlife areas. These practices also avoid flooding local environments with synthetic fertilizers, sewage, pesticides, irradiation and genetic engineering.
Considering that the UK's Pesticide Actiion Networks states that 2.4% of the cultivated land in the world is used to produce cotton, but 6% of the world's pesticides are used on those lands, it is the single largest crop using these harmful man-made chemicals.
There is an overwhelming body of research showing higher incidents of serious diseases and development problems from exposure to agricultural chemicals or physical proximity to chemical-based farming communities. The Agricultural Health Study, funded by the National Cancer Institute and the National Institute of Environmental Health Sciences, is one of the largest ongoing health studies with over 89,000 participants from farming communities and reveals higher incidents of cancer (including prostate cancer), Parkinson's disease, diabetes, thyroid disease and asthma.
Considering their hard-hitting eco-credentials, EcoDownunder are reasonably priced, especially for the quality. In fact they are often cheaper than your high street chains offering non-organic products.
Aware that modern cotton production processes often heaviliy rely on the use of harsh chemicals, Ecodownunder are leading the way with "quality, integrity and design" whilst keeping prices low to make the products accessible to all.
Their organic range uses certified organically grown cotton fibres, made without harsh chemicals and synthetic fabrics, and as above pollution-free whitening and biodegradable packaging.
We are constantly striving to make our products better for the environment, better for you and your family, but do not cost the earth.
I love the no-nonsense ethical approach to bedding and towel production and I honestly don't buy mine from anywhere else these days.
Visit their online shop here.